May 28, 2016   My first lunch out in Edinburgh with Nikki, my cousin, with newest baby cousin, Harris: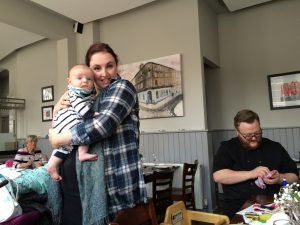 Sylvesters is a comfortable Bistro with delicious course after delicious course, served in artistic ways, so it was hard to have to disturb the beauty on the plate to eat it. It was worth it, every time: Delicious Rainbow trout fresh from a Scottish river, Smoked Salmon; wild not farmed, and a variety of colorful vegetables, broiled to perfection, which I love!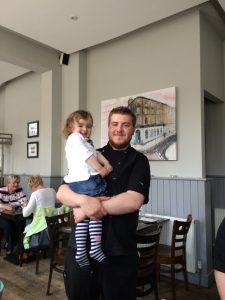 My wee cousin, Alexandra AKA "Lexy" & Chef Duncan of Sylvesters
Chef Kieran Sylvester bringing the family together around his artistry.